OrdinalsBot Raises more than $1 Million in Seed Funding to Drive Bitcoin Ordinals Infrastructure
October 9th 2023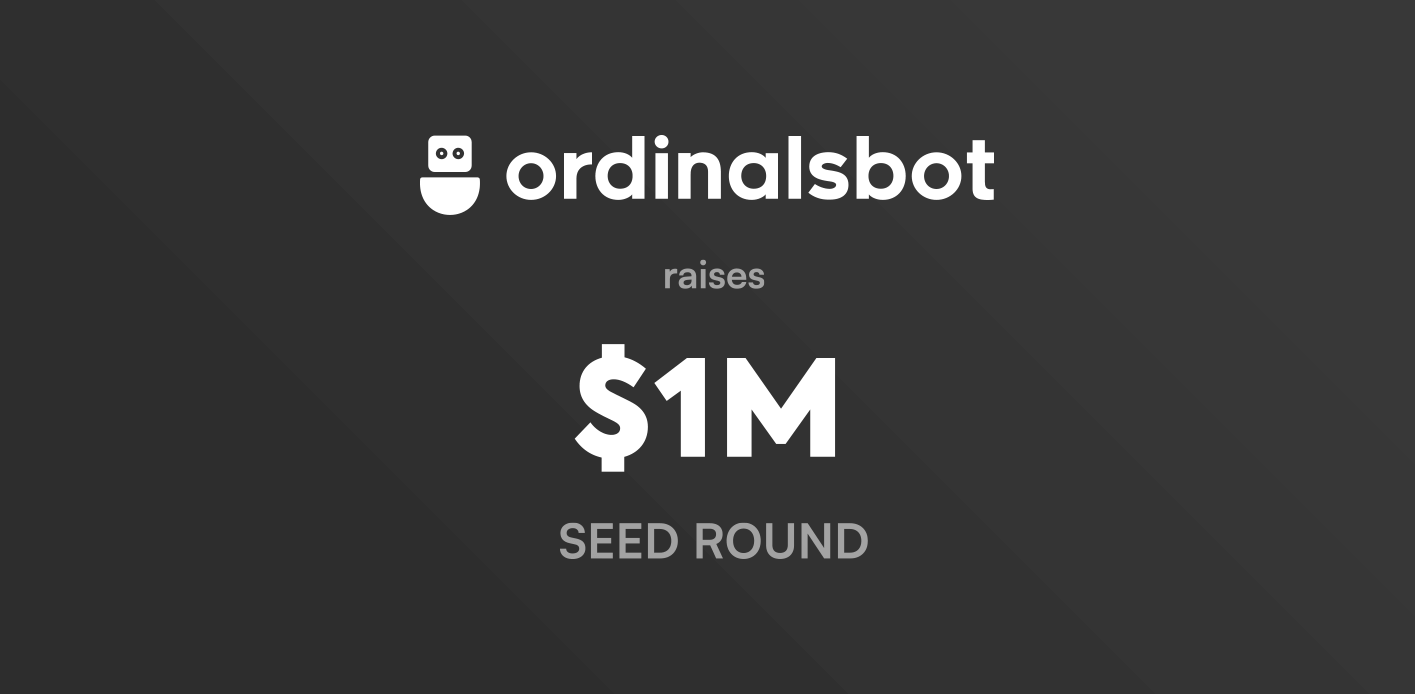 OrdinalsBot, pioneering in the Bitcoin Ordinals ecosystem, successfully raises $1 million in seed funding to enhance its innovative inscription services.
OrdinalsBot, a prominent player in the Bitcoin Ordinals space, has successfully raised more than $1 million in seed funding. Founded on February 7, 2023, OrdinalsBot has rapidly gained recognition and solidified its position after being the first automated inscription service in the Bitcoin Ordinals ecosystem. The platform is dedicated to providing the best infrastructure in Ordinals, making inscriptions on bitcoin accessible to a wider audience.
The funding round saw substantial contributions from prominent ventures like Kestrel 0X1, Lightning Ventures, UTXO Management, the asset management arm of BTC Inc, publisher of Bitcoin Magazine and the host of the Bitcoin conference, Bitcoin Frontier Fund, Angsana Investments, Deep Ventures and notable individuals like Sebastien Borget, Howard Morgan, Micah Spruill, Ivan Brightly, and Dillon Healy. The raise has been assisted by Novum Insights, MetaLink Capital, Louis Curran and Digital Phoenix Group, as well as James Haft and PAL Capital.

Their united backing, combining the resources of ventures with the strategic insights of individuals, reaffirms OrdinalsBot's potential for growth and innovation in the ordinals landscape.
"It's amazing to see developers returning into the space. Together with our investors and recent seed funding, we are building one of the premier infra companies on Bitcoin" said Brian Laughlan, Co-Founder of OrdinalsBot.
OrdinalsBot has made significant strides in advancing the Bitcoin Ordinals ecosystem, with notable achievements. OrdinalsBot has recently launched its Software Developer Kit (SDK) providing developers with powerful tools to seamlessly integrate Ordinals functionality into their projects. This development has opened up new avenues for innovation within the Bitcoin Ordinals space.
Toby Lewis, Co-Founder of OrdinalsBot, said: ¨We are proud that OrdinalsBot is one of the first companies in the Ordinals sector to raise a $1m round. We strongly believe that Ordinals is a huge market development and OrdinalsBot will enable companies and individuals to store data on Bitcoin and is a key building block in the next wave of Web 3."
By simplifying and streamlining the inscribing process, OrdinalsBot has become a trusted partner for projects looking to get involved in the Bitcoin Ordinals space. OrdinalsBot's commitment to simplifying inscriptions for everyone through its inscription API, which is widely used across the sector.
The substantial capital infusion from this funding round will enable OrdinalsBot to expand its API capabilities, enhance its inscription service, and continue its educational initiatives, further advancing the accessibility and usability of Ordinals for users worldwide. With these recent developments, OrdinalsBot is poised to further empower users and developers in the Bitcoin Ordinals ecosystem.
Contact us for more information
Brian Laughlan
[email protected]
Toby Lewis
[email protected]